Construction year: 2012-2013
Maximalspeed: 110 km/h
Weight: 360 kg
Length: 4180mm
Broad: 1600 mm
Height: 1278 mm
Solar area: 3 m²
Solar cells: Gallium Arsenid
Solar power: 800W
Engine power: 10-20kW
Engine: 2-4
Sits: 3
Concept
The vice world champion thyssenkrupp PowerCore SunCruiser has 3 seats and 4 doors and, like his predecessors from the university, was a pioneer in the field of everyday practicality. Inspired by its predecessors from the Bochum University, the World Solar Challenge 2013 started the Cruiser Class for the first time. This new racing class for everyday solar vehicles was named after the 2009 Bochumer-SolarCar, the BoCruiser.
Race participation
The PowerCore Suncruiser proved to be very reliable in the race. While the students encountered many difficulties with the new self-made motors during production and the test drives before the World Solar Challenge, the SolarCar drove 3000 km without problems, accidents or malfunctions during the competition and made it to second place. The car also scored points with its robustness at its other races and events. The car drove twice in the European Solar Challenge and was European champion in 2014.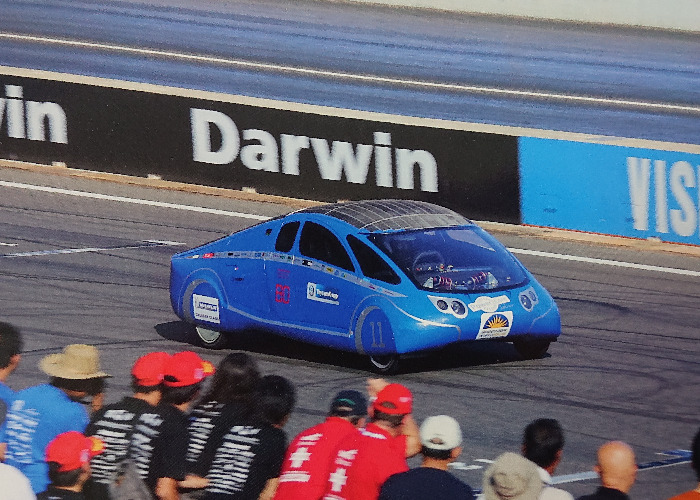 World Solar Challenge
2013: place 2

European Solar Challenge
2014: place 1
2016: place 5

Albi Eco Race
2017: place 4

Present and Future
The car has been presented at changing exhibitions since 2017. At the moment the car is visually refreshed again in order to present itself from a new side in the future.