Construction year: 2016-2017
Maximalspeed: 140km/h
Weight: 490 kg
Length: 4960 mm
Broad: 1760 mm
Height: 1170 mm
Battery weight: 70kg
Battery capacity: 15kWh
Solar area: 5 m²
Solar cells: Silizium
Solar power: 1300W
Engine power: 24kW
Engine: 4
Sits: 4
Concept
This SolarCar, the thyssenkrupp blue.cruiser, also takes the next step with the principle of energy efficiency, functionality and impressive design. The idea from 2017 was to build a vehicle that not only looks attractive but also feels like a production model. Not only are the four seats and four engines new, but also the special focus on the use of sustainable materials. The body is traditionally made of carbon fiber, in the manufacture of which the team has developed years of know-how. Linen fiber and pineapple leather were used in the structurally uncritical areas in the interior. The four seats give you the opportunity to be more practical when you are out and about.
Race participation
In the race for the world championship, the car withstood the bad weather conditions and achieved 2nd place. Problems were caused by a poorly tuned drive train that cost the team several motor controllers. After six months of troubleshooting in the home workshop, the car was ready for use again on time for preparations for the 2018 European Championship in Belgium. Here the blue.cruiser presented the advantages of its all-wheel drive for the first time. Although the car drove into the gravel trap during the 24-hour race and the damage had to be laboriously repaired in the pits, the team still took third place. After a complete repair, the blue.Cruiser was able to achieve first place in the next race, the Albi Eco Race.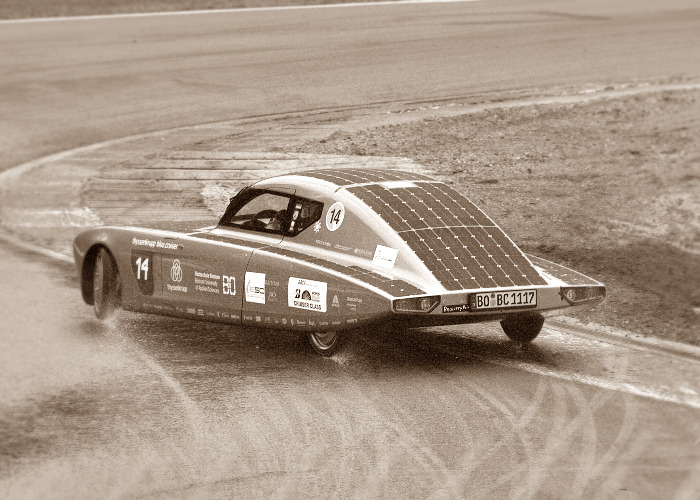 World Solar Challenge
2017: place 2

European Solar Challenge
2018: place 3

Albi Eco Race
2019: place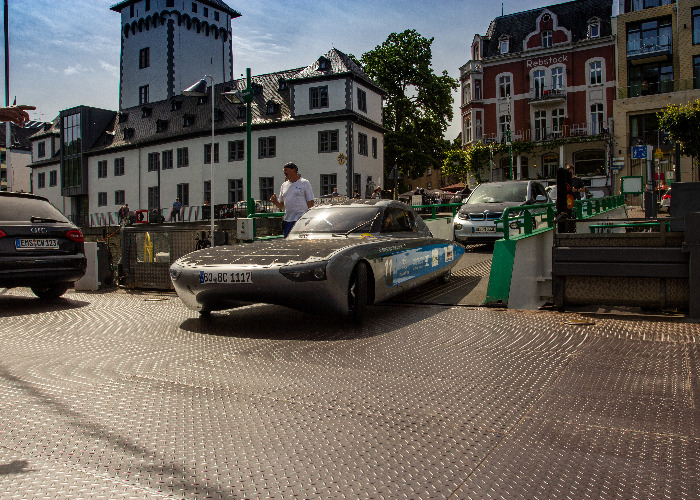 Everyday occurrences
In 2019, the car was able to prove its capabilities on the road for a year. Regardless of whether it is distances of 1500 km to the annual race in Albi, France, demanding mountain routes through the Eifel or long distances on the motorway, the tkbc masters all challenges. Since 2020 the car can be admired for five years in the Deutsches Museum Nürnberg.